Roll over image to zoom in
Click to open expanded view
Bullrun – Rippin Red – Luxury Racing Sunglasses – Wooden F1 Sunglasses (NEW)
$380.50 VAT included (where applicable).plus shipping
Ready to ship in: 1 business day
Ships from: United Kingdom (UK)
The stylish Bullrun are unisex sunglasses featuring a timeless round shape enhanced by the style and attributes of our unique composite wood. We have taken the stylish Bullrun frame and custom painted the outer layer in Rippin Red gloss, using similar processes that are used to paint modern day supercars, leaving the unique wood finish and style on the inside. A unique pair of Luxury Racing Sunglasses that seek a new perspective. A truly unique and bold pair of Luxury Racing Sunglasses.
The unique composite wood material used to make our Luxury Racing Sunglasses is purpose made to sustain the harsh and relentless environment of a racing car, where it protects the underside of the car from scraping the track. This durable composite wood is extremely strong and lightweight due to its construction process being similar to that used to make carbon fibre.
OUR GUARANTEE
Free delivery

Exchange or return with full refund (14 days)

A one year manufacturing warranty
THE MAIN FEATURES
Polarized lenses with an inner anti-reflective coating for exceptional clarity

Spring fit hinges for the best fit and comfort

A soft touch smooth crafted finish

Lightweight and very durable

Handcrafted from Jabrock? composite wood
Read more
Once it's gone, it's gone. This is the only stock from the seller.
Product Description

HAND CRAFTED | OUR MATERIAL
Jabroc? was Initially applied to Formula 1 cars in 1994 for safety reasons. Since then it has been used on all modern day racing cars that rely on downforce in order to control the level of the car on track. We believe its first main use was on the world war 2 Spitfire airplane, to construct the propellers.
Jabroc? wood has half the strength of steel at only 20% of its weight, as strength and weight play an important role in motorsport. We consider it the carbon fibre of the wood-world.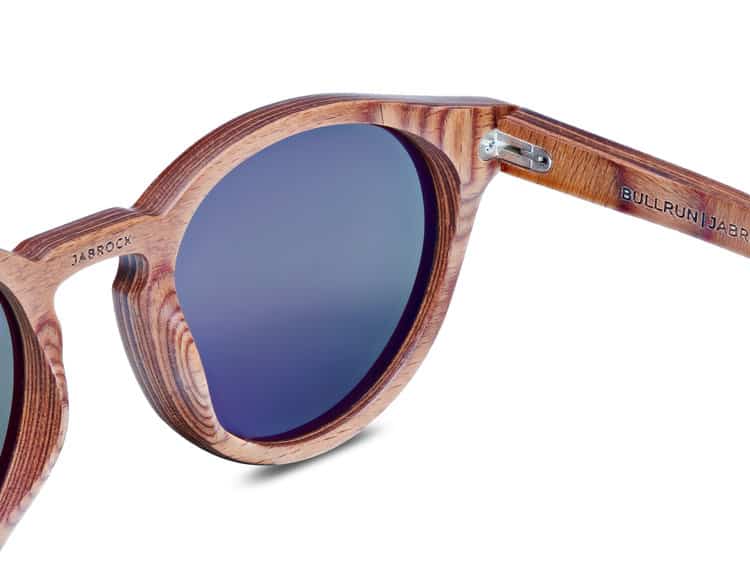 The behaviour of natural wood means each piece develops its own characteristics in colour and grain, so no two frames are ever the same. Each one has its own individuality. Our frames go through such an extensive crafting process, it?s not difficult to see why they?re works of art in their own right.
Our frames are hand made and finished, piece by piece, so you can be sure your frames are one of a kind. We?ve done all this with engineering partners who work on supercars, not your ordinary specs.
HAND CRAFTED | RELENTLESS DEVELOPMENT
The human touch is always admired and from the start our frames have always been hand made.
Our sleek and slender eyewear designs are developed through a well explored crafting process, because of the durability and strength of the material we use. A process that took 18 months of exploration before getting it right.
This has allowed us to produce unique sunglasses using a revolutionary material only used by us.
During our development we went through various construction methods to find out the best and most efficient way to produce our frames. The nature of our material and its ability to blunt and destroy any tools working with it, meant we had to find our own solutions to the manufacturing methods.
In the end we came up with a multi-stage production process which ensures that we provide a reliable, durable and perfected product.
The human touch is always admired and from the start our frames have always been hand made.
HAND CRAFTED | ATTENTION TO DETAIL
Hand made wooden sunglasses from the revolutionary Jabroc material
All text and Jabrock logos are precisely laser written into the frame
Stainless steel spring loaded hinges for the best fit and durability
Waterproof and polished to an exceptional smooth finish
Highest quality polarized lenses ? Full UVA/UVB protection with brown anti-reflective coating for the inner side of the lens reducing glare. (catergory 3 Tint)
Custom painted in Rippin Red using the same paint processes used on supercars.
Lightweight & durable finish.
FRAME AND LENS SIZES
138mm front frame width / 48mm front frame height / 47mm max lens width / 43mm max lens height / 140mm temple (arm) length / 22mm bridge width.
WRITTEN INSIDE: Designed in UK | Hand crafted (Left Temple).
WRITTEN INSIDE: Bullrun | Jabroc Original (Right Temple).
More from
Explore all 21 items from this shop
On GPBox since
June 2020
Based in
LondonUnited Kingdom (UK)
Learn more about Jabrock Eyewear
If it's Motorsport art, parts or memorabilia, it's on GPBox.